WATTS® 0158774 40 Series Automatic Reseating Temperature/Pressure Relief Valve, 3/4 in Nominal, MNPT x FNPT End Style, 150 psi Pressure, Bronze Body, Domestic
WATTS® 0158774 40 Series Automatic Reseating Temperature/Pressure Relief Valve, 3/4 in Nominal, MNPT x FNPT End Style, 150 psi Pressure, Bronze Body, Domestic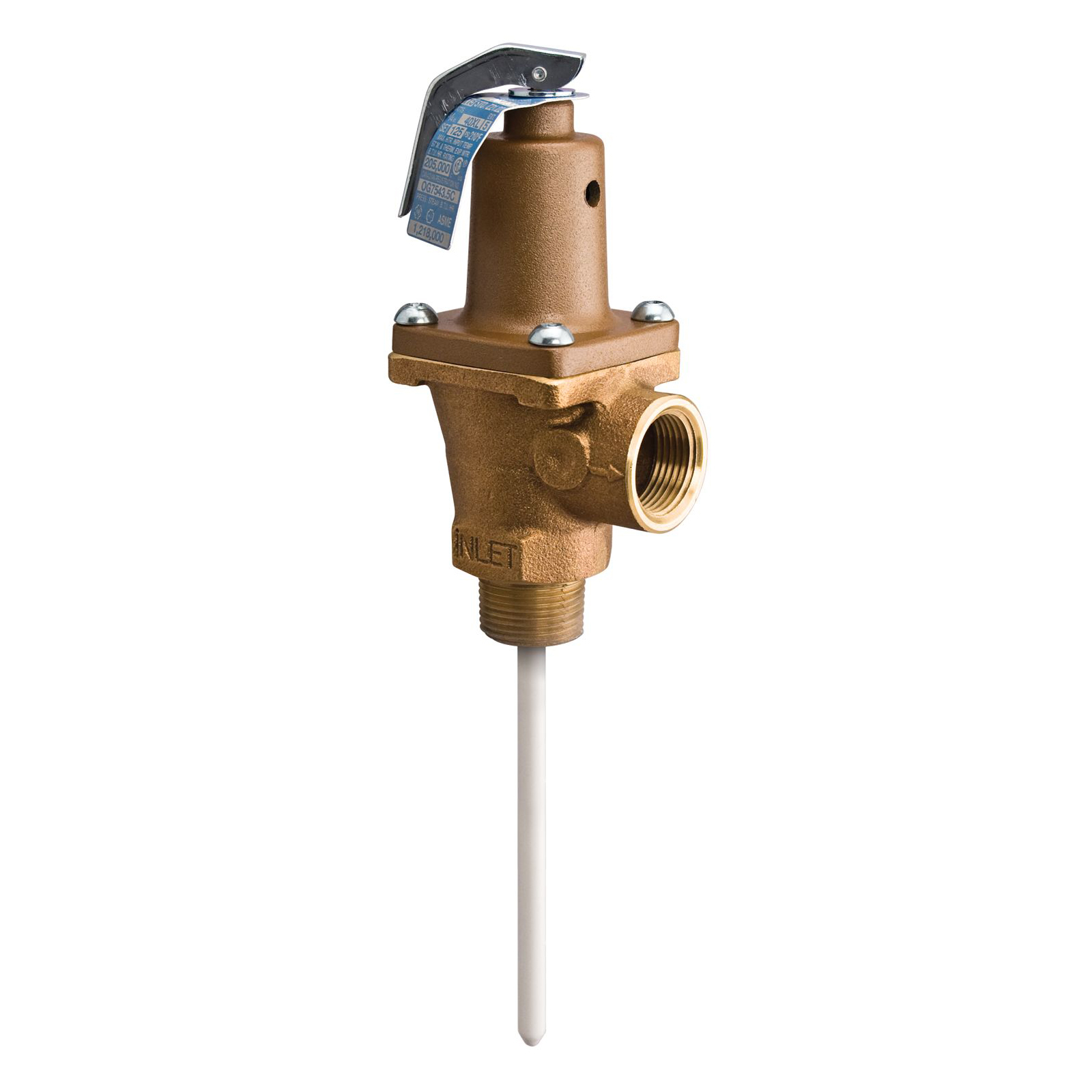 Body Material:

Bronze

Country of Origin:

US

Domestic/Import:

Domestic

End Style:

MNPT x FNPT

Manufacturer Name:

Watts Water Technologies

Media:

Water

Nominal Size:

3/4 in

Pressure Class:

150 lb

Pressure Rating:

150 psi

Series:

40 Series
Series 40L, 40XL Automatic Reseating Temperature and Pressure Relief Valves are used in commercial water heater applications to provide automatic temperature and pressure protection to hot water supply tanks and hot water heaters. They feature a bronze body with NPT male inlet and NPT female outlet connections, unique thermostat with special thermo-bonded coating, tamper-resistant bonnet screws, automatic reseating feature, and test lever. Model 40L has a short thermostat for installation directly in available tank tapings. Model 40XL has an extension thermostat for installation in the hot water outlet within the allowable distance from the top of the tank. Series 40L, 40XL valves are ASME rated and CSA listed. Temperature Relief: 210 deg F (99 deg C), Pressure Range: 75 to 150psi (5.2 to 10.3 bar), Standard Pressure Settings: 75, 100, 125, or 150psi (5.27, 7.03, 8.79, or 10.55 bar).
Features
Non-mechanical seat-to-disc alignment
Thermostat is accurate and proven exclusively designed and manufactured by WATTS®
Tamper-resistant bonnet screws
Series 40 and 140 feature a unique thermostat with a special thermo-bonded coating
The discharge line must be the same size as the valve outlet and must pitch downward from the valve and terminate at least 6 in (152 mm) above the floor drain where any discharge will be clearly visible
Inquire with governing authorities for local installation requirements
A relief valve functions in an emergency by discharging water
This device is designed for emergency safety relief and shall not be used as an operating control
For 100DT discharge line consult your WATTS® agent
Therefore, it is essential that a discharge line be piped from the valve in order to carry the overflow to a safe place of disposal
Application
Standards/Approvals/Certifications
ANSI Z21.22
ASME Section IV
CSA Certified
MIL-V-136-12D
SA® Certified
PROP65: This product can expose you to chemicals including lead which is known to the State of California to cause cancer and birth defects or other reproductive harm.
Warranty