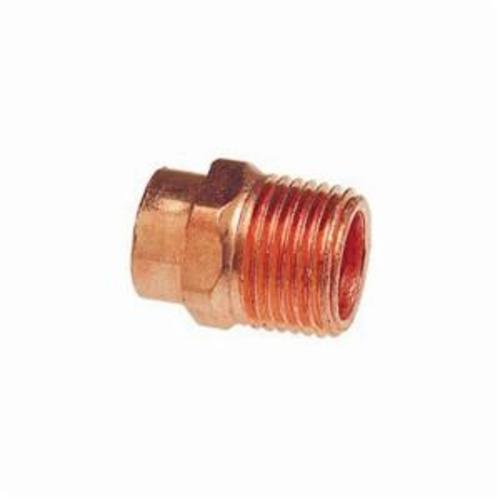 Brand:

Nibco®

Application:

Residential and Commercial Systems such as Potable Water, Air Conditioning and Refrigeration

End Style:

Compression x MNPT

Fitting/Connector Type:

Adapter

Material:

Copper

Nominal Size:

1 in

Series:

604
The NIBCO® lead-free* wrot copper solder pressure male adapter is used in residential and commercial systems such as potable water, air conditioning and refrigeration. Options also include cleaned and bagged for oxygen service (medical gas).The male adapter features a solder cup and male NPT thread. These fittings provide a means for adapting a solder connection to a threaded connection In addition to its inherent qualities of beauty, durability and low maintenance, copper's reusability makes it an ideal application in sustainable projects. NIBCO® copper fittings are manufactured in an ISO 9001 certified facility and backed by a 50-year limited warranty. Because of its longstanding reputation for innovation and precision in design and manufacturing, NIBCO is the preferred brand in the industry.
Lead free
Dezincification resistant
NFPA 99 health Care facilities gas and vacuum systems and the compressed gas Association, Pamphlet G4.1 (medical gas)
Wrot copper